Products List
Contact Us
Tel: 0086-572-2157374
Fax: 0086-572-2146389
Skype: sphinx5858
Whatsapp: +008613754204265
Red yeast rice extract(Monacolin k)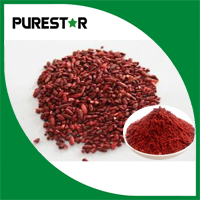 Product Name:

Red yeast rice extract(Monacolin k)
CAS NO.:

114-07-8

Red yeast rice extract
Product Name: Red Yeast Rice Powder
Other Name: Red Yeast Rice P.E.; Red Rice Yeast ; Red Yeast Rice Extract;
Red yeast rice Lovastatin content 0%,0.1%,0.2%,0.3%,0.4%,0.5%,0.6%,0.8%,1.0%,1.5%,2.0%,2.5%,3.0%
Active Ingredients: Monacolin K( Lovastatin)
Source: Monascus Purpureus
Main Function: Lower Cholesterol
Fields: Health Food , Medicine, Functional Food

What is red yeast rice?
Red yeast rice is rice that has been fermented by the red yeast, Monascus purpureus. It has been used by the Chinese for many centuries as a food preservative, food colorant (it is responsible for the red color of Peking duck), spice, and an ingredient in rice wine. Red yeast rice continues to be a dietary staple in China, Japan, and Asian communities in the United States, with an estimated average consumption of 14 to 55 grams of red yeast rice per day per person.
Red yeast rice also has been used in China for over 1,000 years for medicinal purposes. Red yeast rice was described in an ancient Chinese list of drugs as useful for improving blood circulation and for alleviating indigestion and diarrhea.
Recently, red yeast rice has been developed by Chinese and American scientists as a product to lower blood lipids, including cholesterol and triglycerides.
Red yeast rice (Chinese: 紅麴米, 红曲米; pinyin: hóng qú mǐ; lit. "red yeast rice"), red fermented rice, red kojic rice, red koji rice, anka, or ang-kak, is a bright reddish purple fermented rice, which acquires its colour from being cultivated with the mold Monascus purpureus.
Red yeast rice is produced by cultivating the yeast strain Monascus purpureus on rice. The rice is first soaked in water until the grains are fully saturated. The raw soaked rice can then either be directly inoculated or it can be steamed for the purpose of sterilizing and cooking the grains prior to inoculation. Inoculation is done by mixing either M. purpureus spores or powdered red yeast rice together with the rice that is being treated. The mix is then incubated in an environment around room temperature for 3–6 days. During this period of time, the rice should be fully cultured with M. purpureus, with each rice grain turning bright red in its core and reddish purple on the outside.
The fully cultured rice is then either sold as the dried grain, or cooked and pasteurized to be sold as a wet paste, or dried and pulverized to be sold as a fine powder. China is the world's largest producer of red yeast rice.

Certificate of Analysis of Red yeast rice extract

| | | |
| --- | --- | --- |
| ITEM | STANDARD | RESULT |
| Description | Scarlet Red Fine Powder | Complies |
| Moisture(%) | | 8.15 |
| Size | 40-120 | 100 |
| AS (mg/kg) | ≤1.0 | Complies |
| Pb (mg/kg) | ≤2.0 | Complies |
| Hg(mg/kg) | ≤0.02 | Complies |
| Total Fungus Count (cfu/g) | ≤1000 | Complies |
| Yeast and Mold (Cfu/g) | ≤50 | Complies |
| Ecoliform (MPN/100g) | ≤30 | Negative |
| Citrinin(ppb) | ≤100ppb | Negative |
| Bacteria | Negative | Negative |
| Pesticides | USP 561 | Complies |
| Salmonella(25g) | | Negative |
| Aflatoxin B1 (ppb) | ≤5 | Negative |
| Monacolin-K(mg/g) test by HPLC | ≥3.0% | 3.12% |

Function of Red yeast rice extract
1. Decrease LDL cholesterol and rise HDL cholesterol without side effects, and inhibit cholesterol synthesis in the liver by inhibiting the action of HMG-CoA reductase which is known to raise cholesterol levels to keep cholesterol levels in check.
2. Support healthy blood pressure levels, balance blood sugar, lower serum lipid levels, improve blood circulation, and promote cardiovascular health;
3. Promote healthy spleen and stomach function;
4. Benefit for bone health and function;
5. Improve digestion, promote normal cell growth, and slow down the aging process.

Application of Red yeast rice extract
1.As raw materials of drugs for lowering blood pressure and Alzheimer's disease, it is mainly used in pharmaceutical field;
2.As active ingredient of products for improving blood circulation and benefiting stomach, it is mainly used in health product industry;
3.As food supplements and natural pigment, it is widely used in food industry.

Package and storage of Red yeast rice extract
1.Packing: By 25kgs/drum, inner by double plastic bag.
2.Storage: Stored in a cool&dry well-closed container, keep away from moisture and strong light/heat.
3.Shelf life: Two years under well storage situation.